2014 concerts

2013 concerts

2012 concerts

Help LRFC Spread the Word - Hang a Poster

Folk Music Resources and other Venues
Folk Radio in AR: From Albion And Beyond - on KUAR 89.1 produced and hosted by LRFC's Len Holton and now streaming live worldwide on the Internet Sat 9pm CT (Sun 0300h GMT) - Brand new releases, US and NA radio debuts, vintage vinyl, classic folk rock, revival, and source singers...simply beautiful music from the United Kingdom and beyond... on KUAR 89.1. and now available on demand at Mixcloud
LR Irish Music Sessions (ACMS)
<![if !supportLineBreakNewLine]>
<![endif]>

Little Rock Folk Club is dedicated to preserving the link between the musical traditions of the Old and New Worlds.
Little Rock Folk Club was founded June 12th 1989 by several diehard fans of U.K. and Irish music in the Little Rock area and is Little Rock's oldest 'bridge' between the Old and New World musical traditions. During the intervening years we have produced numerous concerts by some of the best and most enduring musicians in that genre. This includes strictly traditional artists and songwriters/composers working in that genre. LRFC is a 501(c)(3) organization. We welcome sponsorship, donations and input from others sharing our interests.
Coming Up Next at LRFC@Hibernia Irish Tavern
9700 N. Rodney Parham, LR AR 72227
Sat Nov 4th 2017 at 7:30pm
Tickets on line SOONISH! Brown Paper Tickets

<![if !vml]>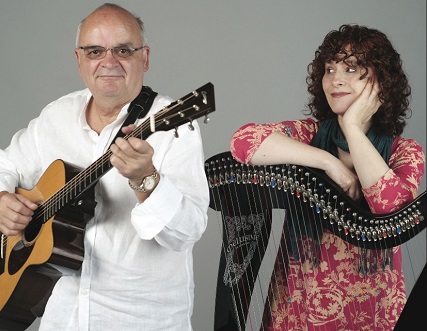 <![endif]>
Maire Ni Chathasaigh & Chris Newman
"The celebrated virtuoso partnership of "the doyenne of Irish harpers" (SCOTLAND ON SUNDAY) and "one of the UK's most staggering and influential acoustic guitarists" (fROOTS), has by now brought its special musical vision to venues large and small - from the tiniest of historic churches in England, Germany and Italy to palaces in Kyoto and Istanbul, London's Barbican, Sydney Town Hall and the Philharmonie in Cologne – in twenty-two countries on five continents. Their performances - described by The Irish Times as "music of fire and brilliance from the high-wire act in traditional music" - are rooted but eclectic, emotional but adventurous: a breathtaking blend of traditional Irish music, hot jazz, bluegrass and baroque, coupled with striking new compositions and Chris's delightfully subversive wit. They've made many appearances on TV and radio and their busy touring schedule has brought them to twenty-one countries on five continents. Of their seven albums together, The Living Wood (1988) was the Daily Telegraph's Folk Album of the Year, Out of Court (1991) was "stunning... one of the most refreshingly innovative releases in recent years" - Folk Roots, The Carolan Albums (1994) was "a masterpiece of virtuosity" - The Daily Telegraph, Live in the Highlands (1995) was "One of the best live albums I've heard for a long time... captures the essence of these remarkable performers in a rare and priceless way. Absolutely essential." - Folk Roots and Dialogues:Agallaimh (2001) was "Terrific: brilliant, beautiful, rich, virtuosic, delightful, classic, perfect!" Of their sixth CD, FireWire, the critics said: "An eclecticism and spirit of adventure that is quite thrilling... bewitching string fantasies and a wonderfully clear and expressive voice" THE TIMES "Dazzling virtuosity... delightful" THE DAILY TELEGRAPH "In a class of their own" THE GUARDIAN "Takes one of the most effete instruments in traditional music and breathes a fire into its belly" * * * * THE IRISH TIMES "Brilliant, innovative harping and guitar-playing of astonishing virtuosity and versatility" * * * * SONGLINES "Album of the Year" LIVE IRELAND "Best Celtic Instrumental Album" JUST PLAIN FOLKS AWARDS Nashville, Tennessee. Their new CD, Christmas Lights is "A delightful... satisfyingly original, often refreshingly unpredictable take on festive favourites… Gorgeous and uplifting" THE LIVING TRADITION - and their 21-date Christmas 2014 tour played to sell-out audiences: "(Their) mastery and magic... produced a rapt response" THE GUARDIAN

Please join us for a very special evening of peerless, virtuosic musicianship - you'll be glad you did!

Videos here…


***Limited Tickets Available!***
All concerts begin at 7:30pm in the acoustically pleasing, Bose Sound System powered, smoke-free, wheelchair accessible Hibernia Irish Tavern where every seat is the best one!
Admission: $15 Adults, $10 Military, $8 Students with ID, accompanied children 12 and under Free
Info: 501-663-0634
Come early, get a good table and meet our musician(s)...
Hibernia Irish Tavern
9700 North Rodney Parham
Little Rock
Directions to LRFC from your house!